Stampa
Source: 
http://www.cosmo.ru/fashion/news/25-10-2016/minimalizm-i-akcenty-brend-fetiche-predstavil-novuyu-kollekciyu-sumok/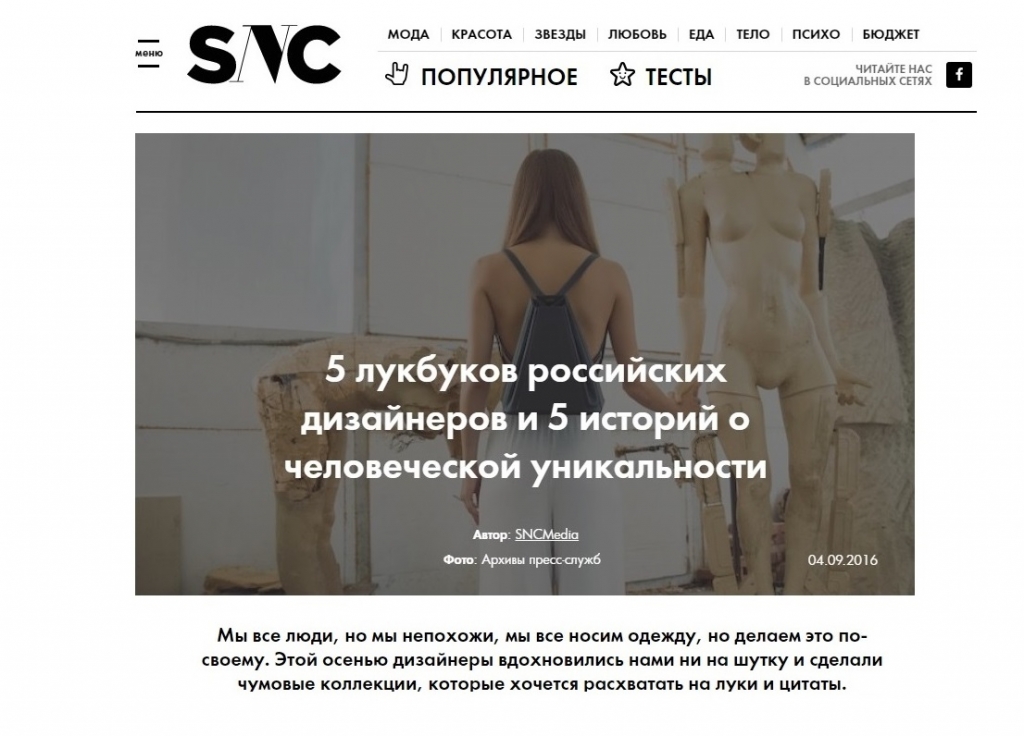 FETICHE 
Yes, we also have our own IT-BAGS, and they're made by the team of 10 people: designers and technology specialists who are responsible for the design and are based in Russia. The production itself is located in Italy. FETICHE brand designers combined art, architecture and production technologies to create not just a bag, but an art object with functional properties, which modifies the style the space around itself.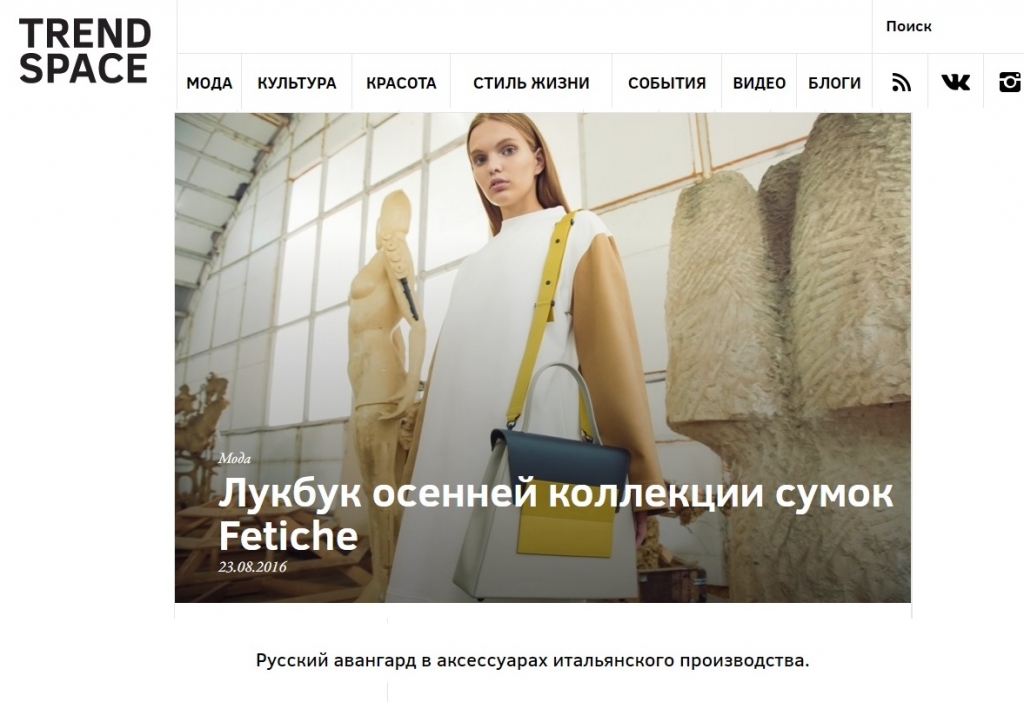 In Fetiche fall-winter 2016 collection there are as traditional hexagon bags and trapeze bags (brand best-seller), and seasonal minaudiere and backpacks. All of them are done in the color block style and traditional autumn colors: wine, terracotta and gray-blue.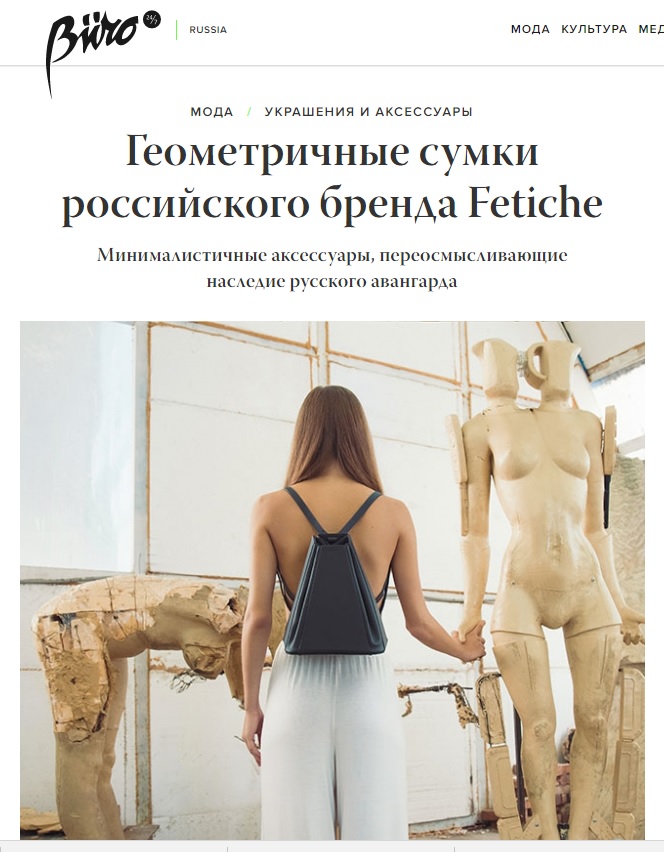 Simple bags like from a geometry textbook are in the autumn-winter collection of young Russian brand.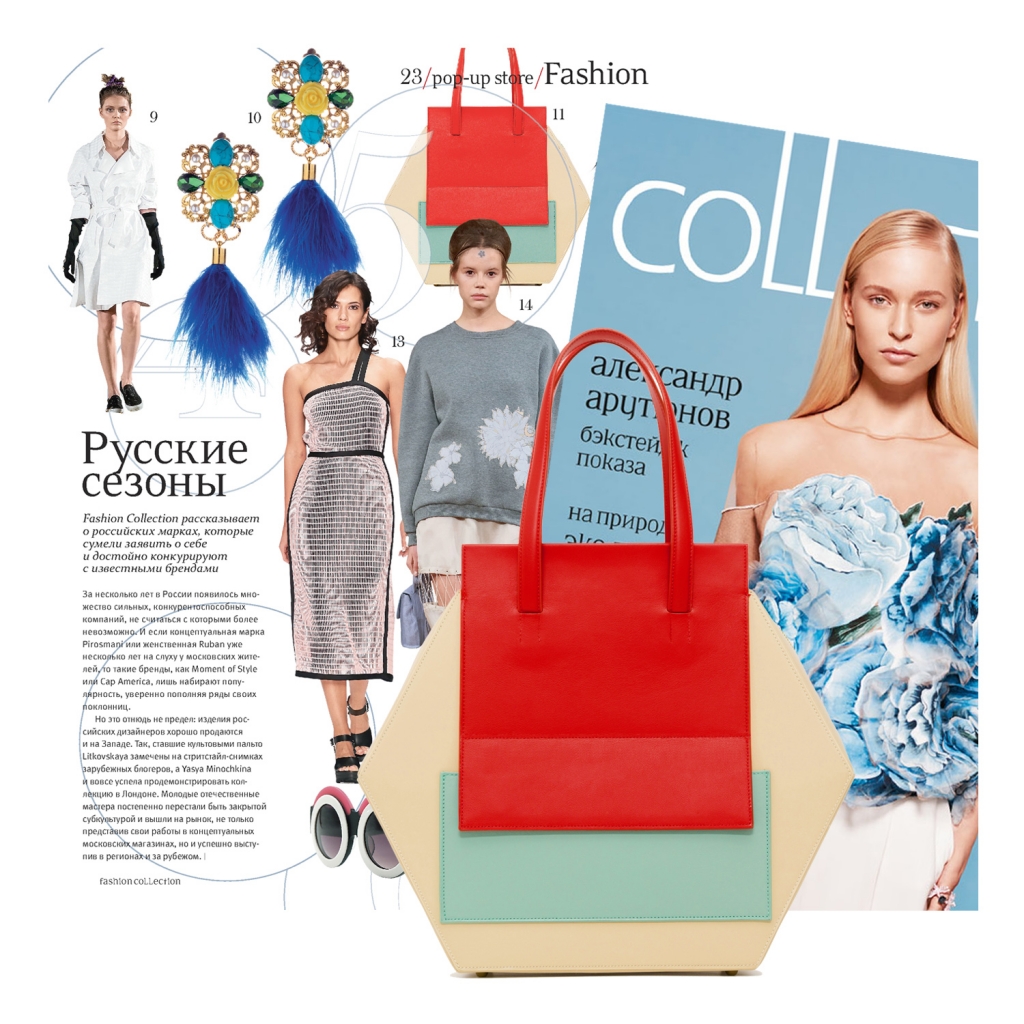 Fashion Collection tells about the Russian brands, which have announced themselves and now are worthy competing with well-known brands.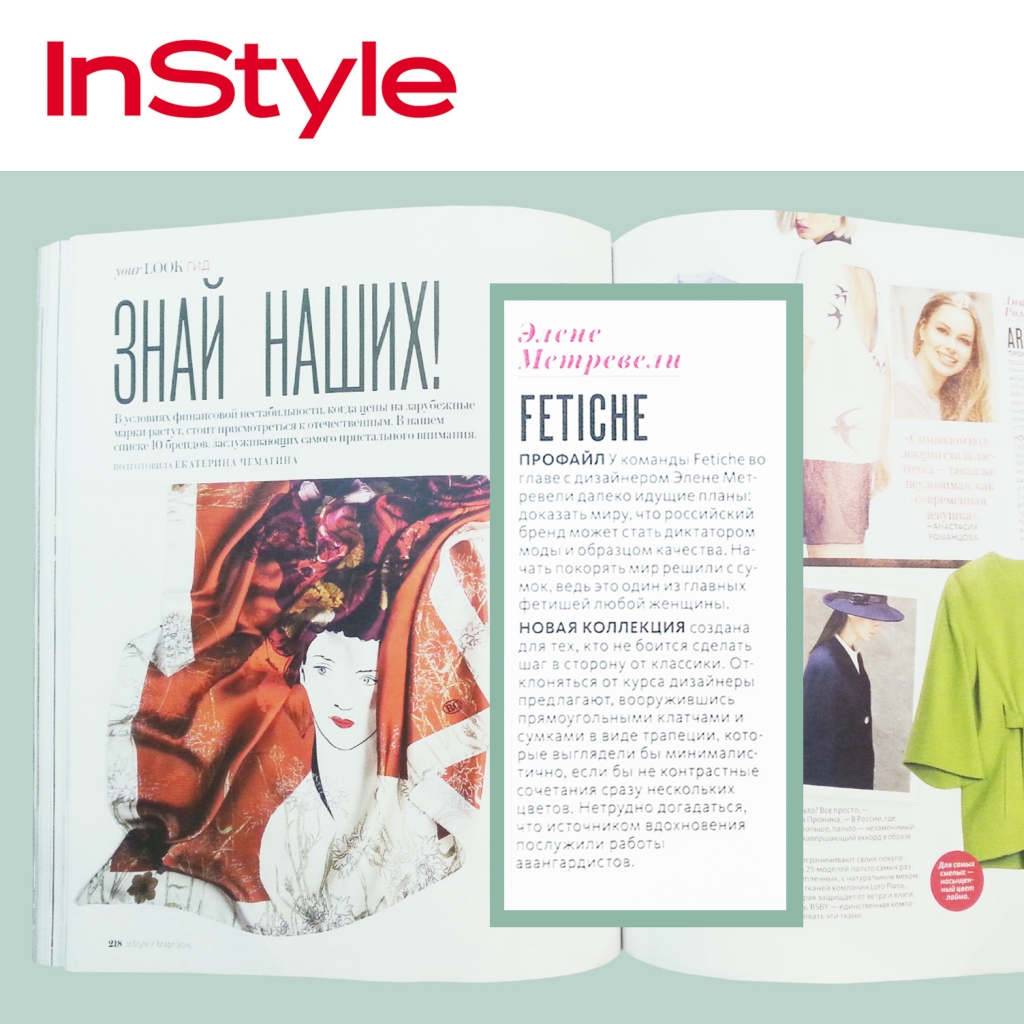 In terms of financial instability, when the price for foreign brands are growing, you should look at domestic ones. 
In our list there are 10 brands that deserve the closest attention.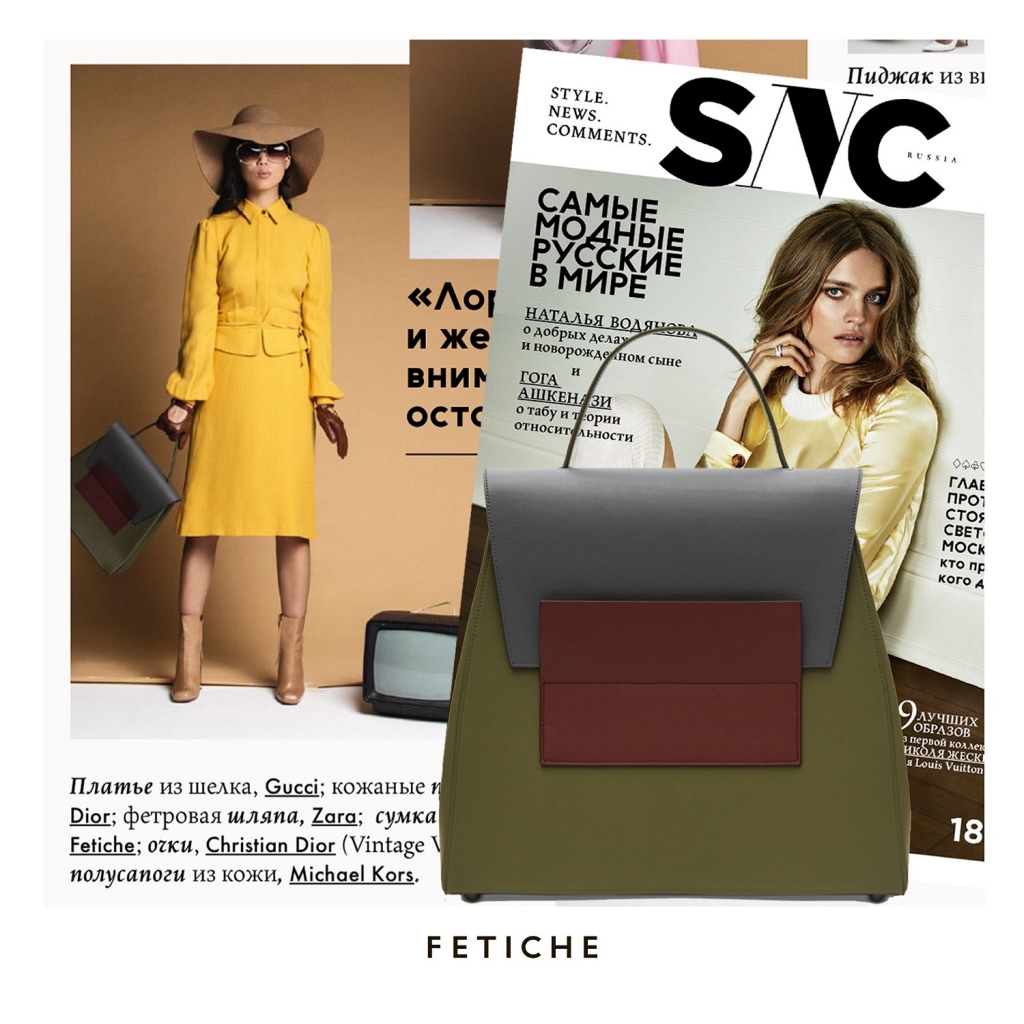 Oksana Ohn is in the image of the 70s icon Lauren Hutton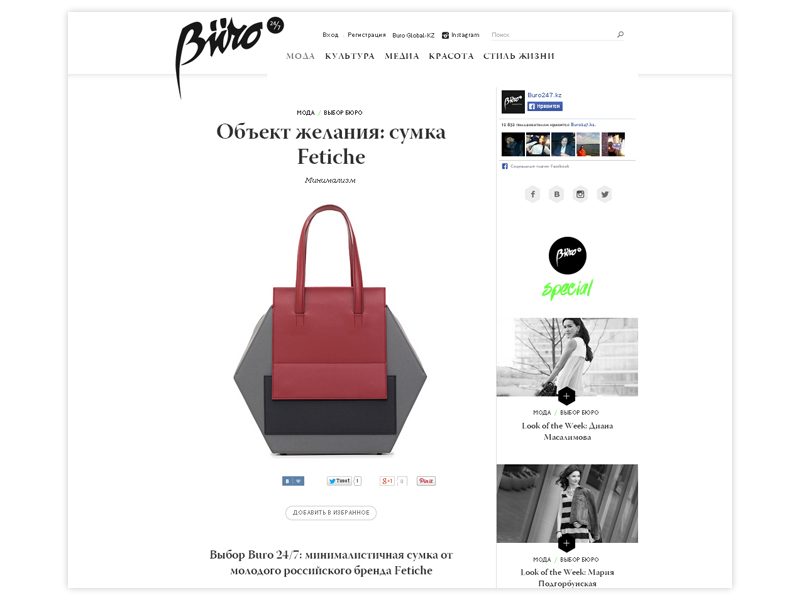 "Bag reveals the character. It tells about the flavor. It is a part of personality, it is a manifest," – say the designers of FETICHE brand.
Leather bag, a favorite one of many it-girls – is now available in several color options, where all the shades are in contrast with each other, and perfectl lines echo the shape of a hexagon. On its creation a team of designers and artists works, and their influence is obvious judging the color blocks.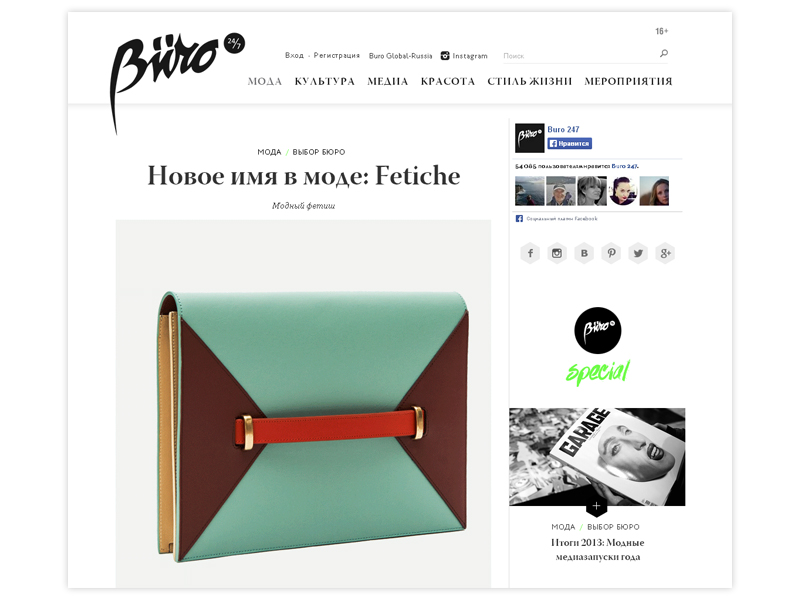 The new brand FETICHE, which specializes in accessories, has all chances with its first collection to fulfill the mission stated in their press manifest: to turn its bags to one of the first accessory of desire in the Russian market. And maybe not only Russian — the plans of the young brand designers are almost indecently ambitious for its age, but perhaps quite justifiable. We don't want to give the extra advances, but these geometric, graphic and very unusual bags, in spite of its brevity, attract attention immediately.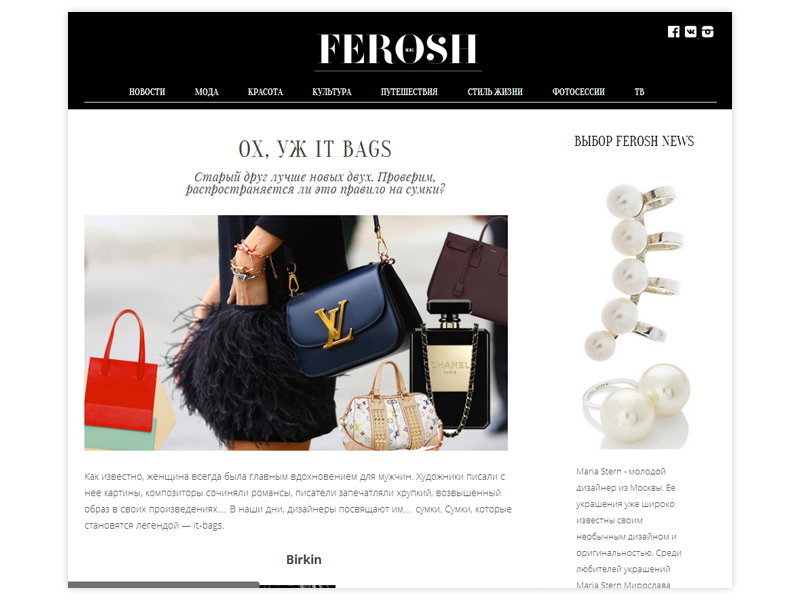 Old friend is better than two new ones. 
Lеt's check whether this rule is for handbags? 
Russian brand introduced its first handbags on the domestic market, created for a real fashion "hunting". Sleek design and simple shape will easily compete with western fashion houses.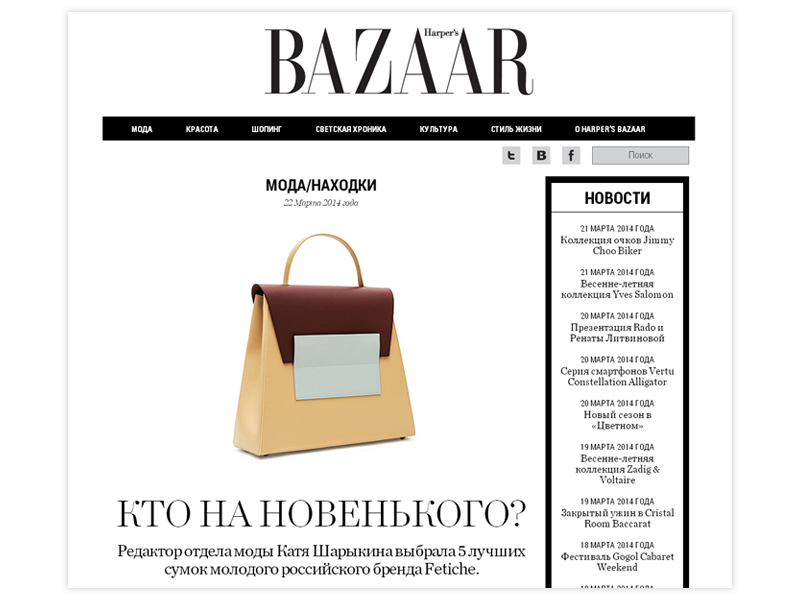 New Russian brands are often treated with considerable skepticism. But brands such as FETICHE is a clear proof that such view is mistaken. The Duo of Elene Metreveli and Alexander Kuzemin managed to create a really great line of beautiful, fashionable, very high quality handbags in their own recognizable style. In the collection there are clutches of different shapes and sizes, and messenger bags, and surround patterns for those who used to fit in the bag at least half of all their property (among these models there is my favourite – trapezoidal bag with a short handle).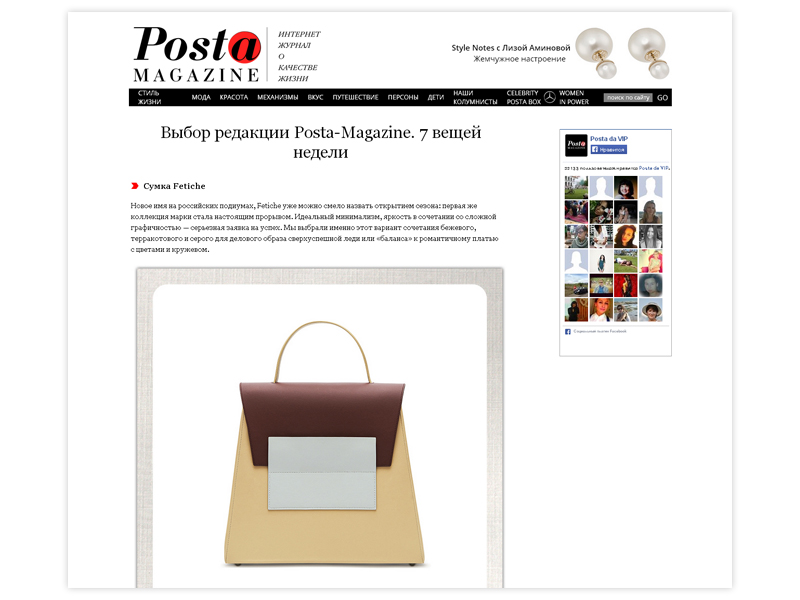 As a new name on the Russian catwalks, FETICHE already can be called the opening of the season: the first collection of the brand became a real breakthrough. Perfect minimalism, brightness combined with sophisticated graphic quality – it's a serious bid for success. We chose this mix of beige, terracotta and grey for a business image of a successful lady or "balance" to romantic dresses with flowers and lace.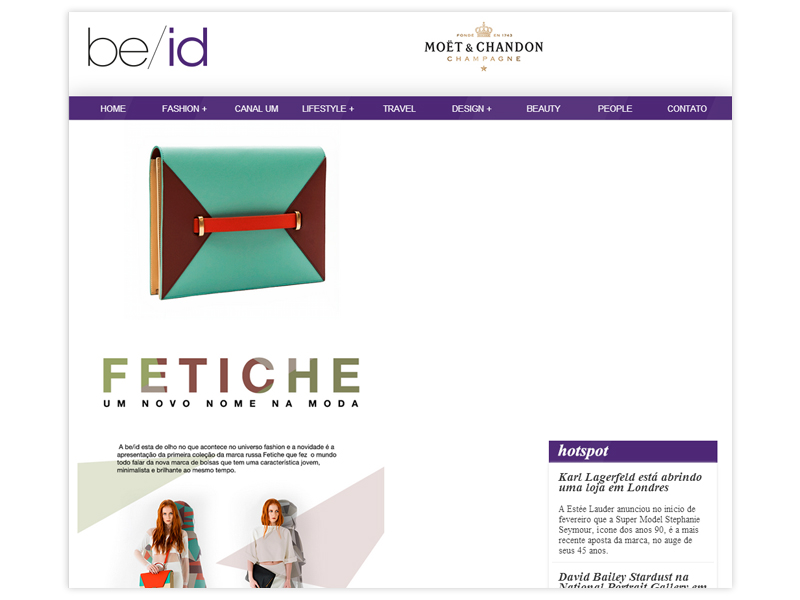 A be/id esta de olho no que acontece no universo fashion e a novidade é a apresentação da primeira coleção da marca russa fetiche que fez o mundo todo falar da nova marca de bolsas que tem uma característica jovem, minimalista e brilhante ao mesmo tempo.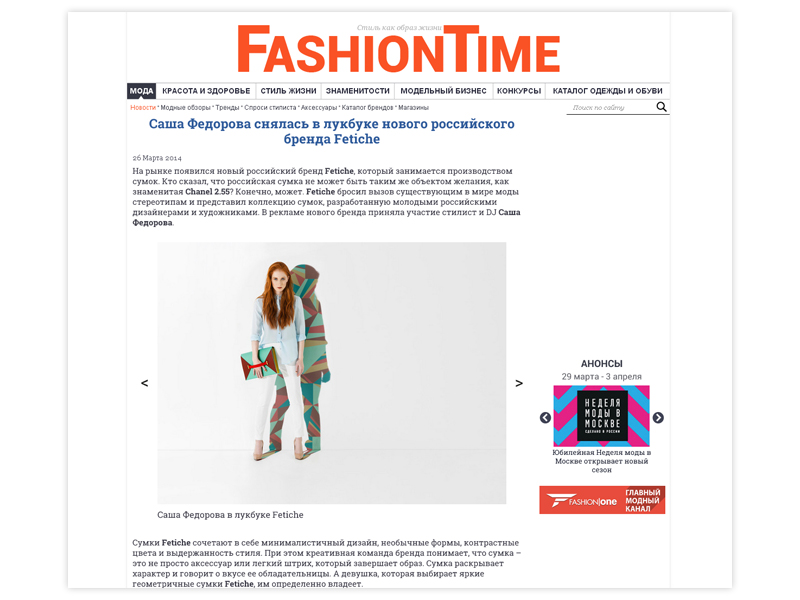 There is a new Russian brand FETICHE on the market, which is engaged in the bags manufacture. Who said that Russian bag may not be the same object of desire, as the famous Chanel 2.55? Of course, it can. Fetiche challenged existing stereotypes in the fashion world and presented the collection of bags developed by young Russian designers and artists. In advertising of the new brand took part a stylist and DJ Sasha Fedorova.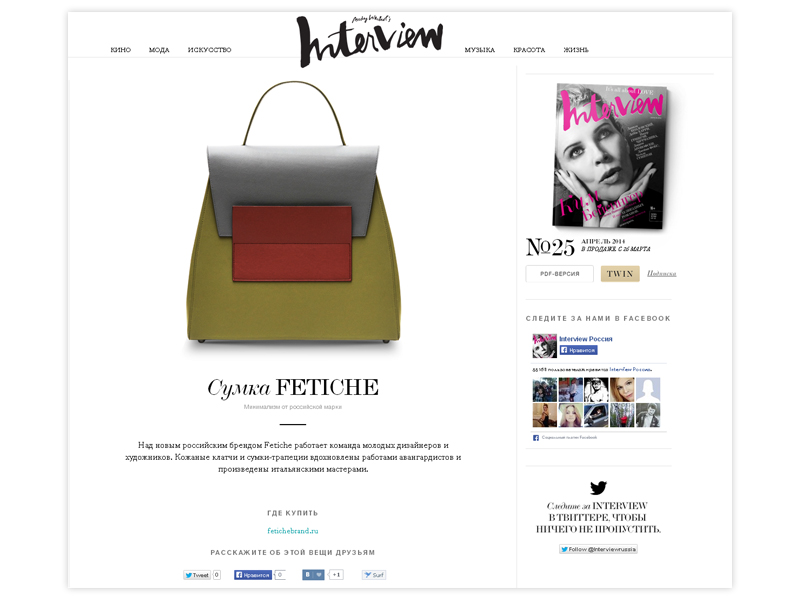 A team of young designers and artists works on the new Russian brand FETICHE. Leather clutches and trapeze bags areinspired by the works of avant-garde artists and crafted by Italian specialists.
Source:
http://www.interviewrussia.ru/loves/sumka-fetiche#sthash.Eo7sB50Q.dpuf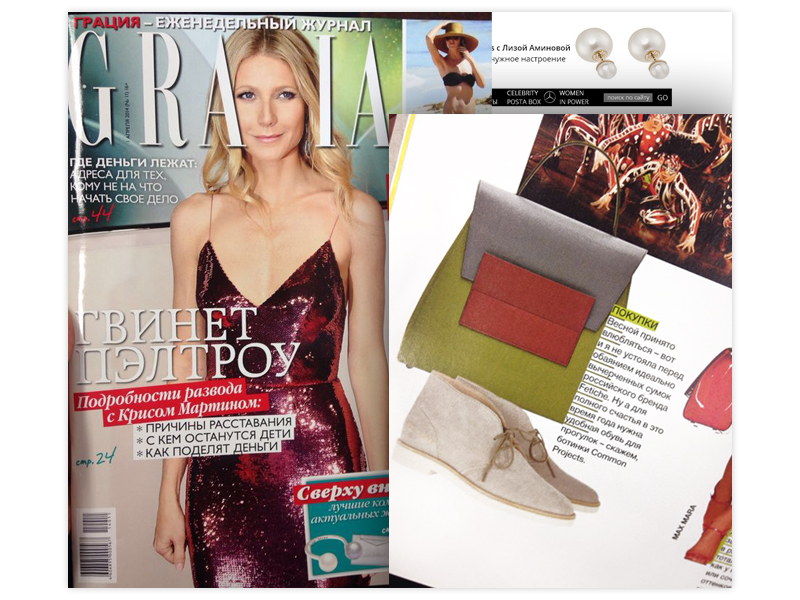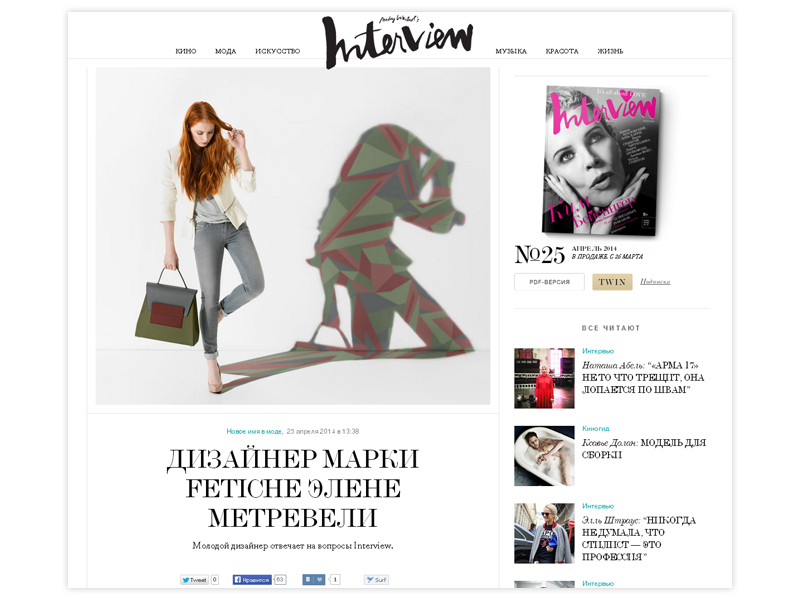 Elene Metreveli, 25, FETICHE brand designer.
Graduated from Moscow state academic art Institute named after V.I. Surikov, which she entered at the age of 15.
I know that you are the artist, how did the
 idea to start designing bags appear?
It all started with the fact that the project invited my friend Alexander Kuzemin, stylist and host of fashion program "Fashion-therapy". And he invited me to the project as an artist. We started to invent models which I then translated to paper, and finally came to the conclusion that our ideas become reality